Mid-Atlantic Regional Scale Hive Location Map
The HoneyBeeNet scale hive data and maps are updated infrequently. The satellite maps do not reflect all available sites at this time. Sites added more recently have yet to be added to the map. Most of the dots on the maps link to site data.
All sites with useful data thru 2012 are listed on the scale hive menu that appears wehn you roll over the Scale Hive Sites button below. The Regional Map includes all sites in MD, Northern VA, DE, and DC. The National Map does not include these regional site. There are some sites indicated on the map for which we have no useful data available. We are currently working on the 2013 data.
The sites indicated in blue are historical (before 1982, the beginning of the earth satellite data record); those in red and yellow are current sites (1983 and later). We show only data from the MODIS sensors on Terra and Aqua on our site pages, which were not launched until 2000 and 2002, respectively.
---
Use the button menu above or click on a site in the map below to see available data and information for a site.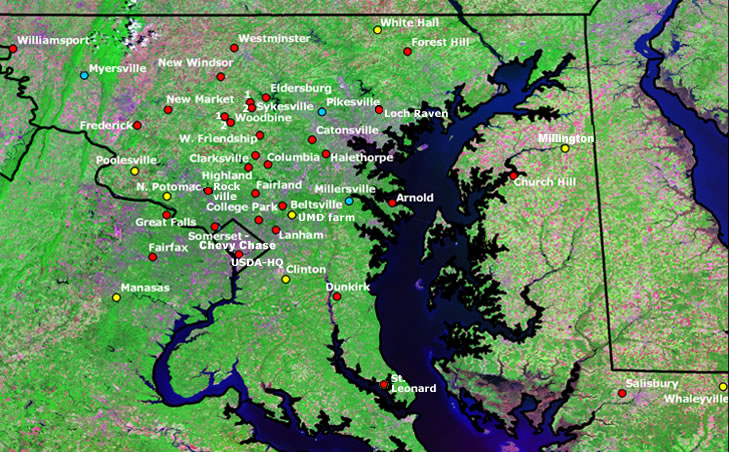 MDA Federal (2004), Landsat GeoCover ETM+ 2000 Edition Mosaics Tile N-18-35.ETM-EarthSat-MrSID, 1.0, USGS, Sioux Falls, South Dakota, 2000.
Source: The Global Land Cover Facility, www.landcover.org.